The Building Edge
when nature takes over

︎︎︎

The Building Edge is a station dedicated to the study of an industrial building weathering into nature.

In 2020, the average age of U.S commercial building was approximately 50 years old while mixed-used buildings had an average of 75 years. According to the US Department of Energy, the lifespan of office buildings made of concrete, steel, and wood is on average 73 years. Buildings are aging and they need repair or demolition. While our understanding of a building's life has been simply associated with function, a building's footprint and its elements are very much integrated into the life of the urban ecosystem. Despite the high levels of disturbance and habitat modification, urban ecosystems still host substantial levels of biodiversity. The processes that maintain existing levels of diversity, however, remain understudied (Anna Johnson, 451).

Hangar B was built on Floyd Bennett Field in 1944, making 76th year of its construction in 2020. The weathering of the surface materials are visible and will need to be repaired to continue its life. Rather than renovating the hangar, the hangar will be conserved and partially exposed to study vegetation dispersal traits into the building.

The hangar will be conserved and decomposed in three different degrees. The two cranes that hover over and under the hanger provides specific vantage points for scientists to observe the "hangar ecology" untouched.

Space for public programming and science is woven and blurred throughout the station. The annex which facilitates the movement of the apparatus and humans, have varying degrees of flexible and defined spaces to enable both the scientific and educational programs on site.

Abandoned buildings on site have already been taken over by vegetation. Hangar B, located on the edge between Verrazzano soil and asphalt pavement, is positioned to weather the ecological transformations in and around the site.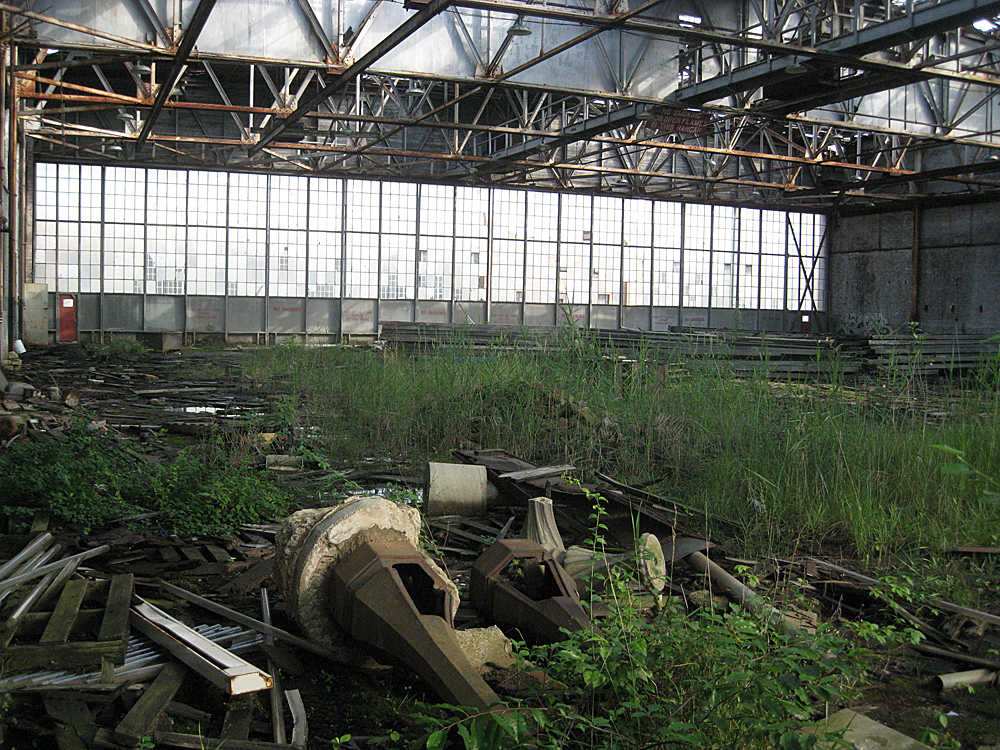 [vegetation growth in a hangar on site]
The Hangar is exposed to three varying levels to observe different rates of vegetation germination in varying conditions. Two gantry crane systems, one that hovers above and one under, are placed to provide the scientists with specific vantage points
Weathering of the hangar into nature not only becomes a field for the scientists but also a spectacle for the public.